Compact self-propelled drilling rig BBU 001
URB-40 ROTARY DRILLING RIG
BMG "Scarabey" – portable decision for drilling of seismoprospecting wells.
UGB on chasiss GAZ-33081 "Sadko"
Compact drill rig BBU 000
Буровая установка УГБ-543-203
MBU-601-000 on the vehicle trailer MZSA
Мобильная буровая установка МБУ-320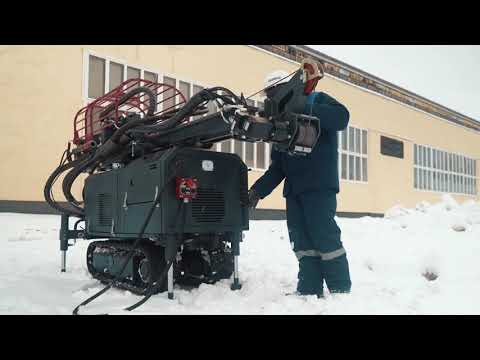 BBU 001-001 provides core and non core drilling with/without sampling, dry/with washing/air flush, DTH drilling, drilling with augers, and in addition SPT and CPT tests. CPT test is possible when KIZ-000 equipment set is used.
The hydro hammer set of the rig allows to collect high quality samples. For dynamic sounding on the BBU 001-001 the KDZ equipment set is put onto the rig.
Engine options
BBU 001-01-001 with gasoline engine
BBU 001-02-001 with diesel engine
BBU 001-03-001 with electric engine
Unique features of the rig:
-The transport base of the rig is the mobile caterpillar track developed by the construction bureau of the «Geomash» group.
-Use of positioning of mechanical supports or hydraulic jacks. The front jacks are mounted on the swinging arms, the back jacks are mounted on the bracket arms, which are hard-wired to the mobile base.

Nosing of all aggregates and all elements of the hydraulic system and electrical apparatus are mounted on the frame of the mobile base. Access to the aggregates, hydraulic system and the electric apparatus is gained through the technological hatch and the swing panel.

-Use of the elector-hydraulic remote control of the mobile transport base.

-Use of hydro-cylinder for dumping.

-Combination of the hydraulic winch with the crown block and its' positioning at the top of the extension of the guide post.

- Including into the drilling rigs composition support of the guide post, with placement of rotating tools barrier brackets and reinforced fixing elements of the centralizer and tubeholder.

-Use of bicuspid fence of the rotary instrument with electric protection mechanism – disabling of rotation when the doors are open.

-The control panel is positioned on the right side of the rig — as viewed in the direction of vehicle motion.

-The rig is equipped with a 30 litter-volume fuel-tank

The rig is equipped with a control sets of the linear and sidelong careen of the mobile base and the mast.

-Mechanism of additional fixation of the mast at vertical drilling.

| | |
| --- | --- |
| Nomenclature | BBU -001-001 |
| Feed stroke, mm | 1400 |
| Spindel rotation frequency, rpm | 0-650 |
| Torque, max., kgF*m | 150 |
| Feed speed at dissent and assent operations , m/s | 0,7/0,23 |
| Feed force, kgF: | |
| - up | 1500 |
| - down | 1500 |
| Length of drill pipe, mm: | |
| - at rotary drilling | 1000 |
| - at percussion drilling with DTH hammer | 750 |
| Tilt angle of the rotary head to the vertical at longitudinal plane, deg.: | 0-90 |
| Drive power, max., kWt: | |
| - gasoline engine | 17,6/25,7 |
| - diesel engine | 17,1 |
| - electric engine | 15,0 |
| Winch weight capacity, kgF | 400 |
| Mass of the mast and the winch combined, kg | 80 |
| Overall dimensions of the rig at transport position (without the winch), mm: | |
| - height/ width/ length | 1895/790/2680 |
| Mass of the drill rig with unfueled hydraulic system , kg: | 1350 |
| Diameter of drilling, max., mm | 230 |
| Conditional drilling depth,, m: | |
| - with augers diameter 135 mm | 25 |
| - with DTH hammer diameter up to 150 mm | 50 |
| - with air flush diameter 112 mm | 50 |